Pursuing Sustainability and Clean Energy at Earth Tools Inc.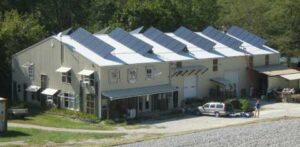 Approaching net-zero electricity with 23 KW solar PV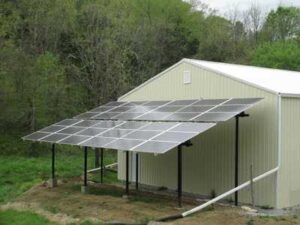 Energy Efficiency and Conservation
Increasing attic insulation to R-60 above the office.
Air sealing around the floor and ceiling perimeter using caulk and spray foam.
Replacing propane space heaters and window air conditioners with high-efficiency mini-split heat pumps. By replacing propane space heaters with heat pumps our electricity usage has increased, but we're able to supply the electrical demand with solar energy.
The Metal Fabrication Shop was built using Structural Insulation Panels (SIPs), which provide a high insulation value and minimize air infiltration. The building is heated and cooled using mini-split heat pumps.
Water and Resource Conservation