Director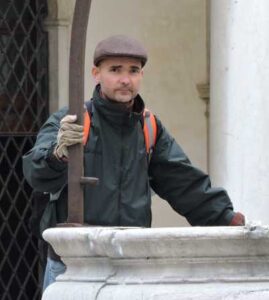 Andy McDonald
Andy's work experience includes solar energy system design and installation; state and local energy policy; educational outreach program development; writing and public speaking; and the development of demonstration projects.
Andy participated in the development of Kentucky's net metering law and statewide interconnection guidelines. He has participated in cases before the Public Service Commission, testified before Legislative committees, worked with legislators drafting legislation, written both technical and public-education documents on energy policy issues, and presented numerous lectures on solar energy and climate change. He is the co-author with Joshua Bills of The Kentucky Solar Energy Guide (2004).
Andy has been involved in the design and construction of numerous energy efficient homes utilizing solar energy and other green building strategies. This includes his own home, a net-zero-energy renovated farmhouse featuring passive solar design, a 2 KW solar PV system, and solar water heating.
Andy has an M.Sc. in Sustainable Systems from Slippery Rock University of Pennsylvania and a B.A. in Philosophy from the University of Buffalo.
CONTACT
Apogee – Climate & Energy Transitions
316 Wapping St., Suite 204
Frankfort, KY 40601
502-699-2553 office
Email: Andy (at) ApogeeClimate (dot) org